Bone Dry Concrete Sealers for Commercial Buildings
Retail Construction Stays on Schedule with Bone Dry Moisture Mitigation System
Construction of new commercial buildings is a time-consuming process, with every moment spent behind schedule resulting in lost profits. Pouring concrete substrates demands a lengthy curing process before wood, vinyl, tile, or carpeting can be installed. Without the appropriate curing time or vapor barrier, moisture locked in the capillaries and interstitial spaces can make its way to the surface and damage any material installed on the concrete subfloor.
Bone Dry Products penetrate into the concrete structure, filling capillaries while creating a vapor barrier to mitigate moisture and protect floor coverings. Applying Bone Dry Pro, the complete concrete moisture mitigation solution, to your commercial cement subfloors shaves weeks off the construction schedule so you can get the job finished on time, if not sooner.
Bone Dry products have been used to seal concrete substrates in a variety of retail buildings, including:
Bone Dry for Commercial Kitchens, Department Stores, and Retail Shops Everywhere
In any commercial business where dampness may cause problems for floor coverings installed over concrete substrates, moisture mitigation products are essential. Most flooring manufacturers will not warranty installations if a substrate's relative humidity level is above 80%, Bone Dry products offer permanent moisture mitigation so your retail store, restaurant, or shopping center can have flooring to last through all of your foot traffic.
Bone Dry Concrete Sealing products provide 220 ft2 of coverage per gallon. Bone Dry Pro is ideal for commercial construction projects over 2000 ft2
Bone Dry Products Provide Complete Moisture Solutions
Bone Dry's line of products cover all of your commercial concrete sealing and waterproofing needs.
Sealing an Existing Concrete Floor? No problem with Bone Dry!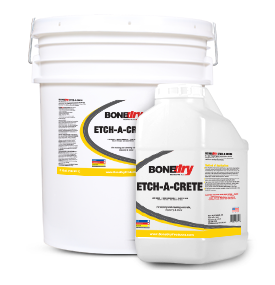 Traditional epoxy solutions typically require surface preparation to take effect. Bone Dry products only require concrete etching on hard-troweled surfaces and grinding or shot-blasting on subfloors with existing adhesives or sealing product. For etching concrete, use Bone Dry's Etch-a-Crete product to allow for maximum penetration into your commercial business's concrete subfloor.
Bone Dry products are the most cost-effective way of sealing concrete flooring to prevent moisture from damaging surface materials in retail store flooring. Etch-A-Crete plays an essential role in this process by preparing hard troweled concrete for waterproofing.
Bone Dry Etch-A-Crete will remove:
Efflorescence (white mineral deposits)
Stains from rust, minerals, smoke residue
Airborne pollutants
Airborne dirt and industrial carbon
Weathering discoloration
Algae, fungus, and mildew
Rust and corrosion products on metals
Cement build-up on tools and equipment