Etch-A-Crete Concrete Etching Solution Ensures the Deepest Penetration of Concrete Sealants
Bone Dry concrete sealing products provide a unique vapor barrier for the best in concrete masonry moisture mitigation. Applying VOC free Etch-A-Crete to new or existing concrete slabs will improve the penetration of Bone Dry products. Existing concrete slabs may show signs of efflorescence, rust or mineral stains, discoloration from weathering, and organic growth (algae, mildew, fungus). Etch-A-Crete opens the surface of concrete, preparing it for proper absorption of concrete sealants - Bone Dry Pro, Bone Dry Plus, and Bone Dry Original - to prevent concrete moisture.
Does My Concrete Need to Be Etched?
If a concrete slab needs waterproofing and has been hard-troweled, an etching solution is essential to providing the deepest penetration of any Bone Dry sealing materials. Etch-A-Crete increases the porosity of hard-troweled surfaces so Bone Dry Pro, Bone Dry Original, or Bone Dry Plus absorbed more effectively, providing concrete with the ultimate in waterproofing.
Etch-A-Crete Preps Existing Concrete Surfaces for Waterproofing
Bone Dry products are the most cost-effective way of sealing concrete flooring to prevent moisture from damaging surface materials. Etch-A-Crete plays an essential role in this process by preparing hard-troweled concrete for waterproofing.
Whether you need to waterproof huge surfaces - such as an airplane hangar or a health care facility requiring the best in concrete mold, mildew and microbial prevention - or just need to seal your garage or basement floor, Etch-A-Crete and the rest of our Bone Dry products are your answer for the best in moisture mitigation and concrete etching materials.
Bone Dry Etch-A-Crete is a user-friendly water-soluble blend of mild inorganic acids, emulsifiers, enzymes & wetting agents that causes no ecological problems.
Bone Dry Etch-A-Crete will effectively etch troweled concrete to open the surface for the subsequent application of any of the Bone Dry Penetrating Concrete Sealers. Bone Dry Etch-A-Crete will not burn concrete.
Bone Dry Etch-A-Crete will remove:
• Efflorescence (white mineral deposits)
• Stains from rust, minerals, smoke residue
• Airborne pollutants
• Airborne dirt and industrial carbon
• Weathering discoloration
• Algae, fungus and mildew
• Rust and corrosion products on metals
• Cement build-up on tools and equipment
Additional Benefits of Etch-A-Crete
In addition to improving the performance of Bone Dry sealing products, Etch-A-Crete removes stains and pushes concrete contaminants and impurities to the surface so they can be easily mopped away. Etch-A-Crete also enhances the bonding strength of paints, adhesives and epoxies, improving the performance of any floor covering materials applied to the concrete flooring slab. Applying the product to your concrete flooring is simple: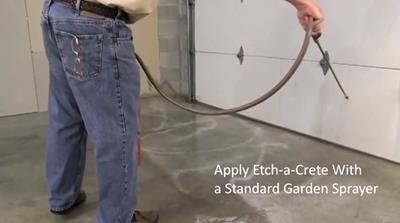 Step 1
Using a common garden sprayer, apply Etch-A-Crete evenly to the existing hard troweled slab.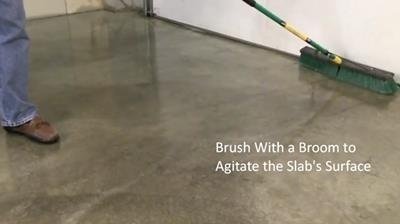 Step 2
Agitate the floor's surface by brushing it with a broom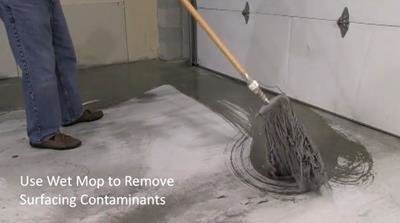 Step 3
After waiting 15 minutes for Etch-A-Crete to be absorbed, remove any surface contaminants with a wet mop or autoscrubber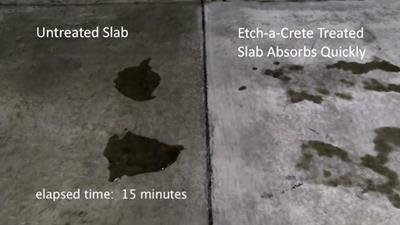 Results
the Etch-A-Crete treated surface absorbs liquids rapidly and is now ready for waterproofing with one of our Bone Dry concrete sealing products
Contact Bone Dry to get a quote for your concrete moisture mitigation solution.
Concrete Etching Solution for California ADUs
Bone Dry Products are a trusted brand across the nation, used in states from California to North Carolina. State laws often require the use of concrete sealer that complies with regulations on all concrete flooring projects. According to the Los Angeles County Building and Safety Guidelines, the concrete floor needs to be provided with a vapor retarder as required in Section R506.2.3. Contact your local permit office to make sure EtchACrete complies with local regulations. Get your California project sealed today.