Moisture Mitigation Products for Concrete Flooring
Deep Penetrating Concrete Sealers Prevent Floor Covering Failures on New and Existing Concrete
When your Calcium Chloride (CaCl) test comes back higher than acceptable or the concrete's relative humidity level is greater than 80%, you've got a serious problem. The critical path of a construction schedule does not give you time to wait another month for the concrete to continue curing and drying.
Bone Dry has been the solution to CaCl and RH troubles in new and existing concrete.
A water-based, penetrating concrete sealer, Bone Dry Pro formula penetrates through the concrete surface, fills the capillaries in the slab, and produces a barrier within the concrete. The result is a permanent waterproof barrier protecting the floor coverings from moisture damage. Properly applied, Bone Dry prevents moisture-based failures with its 20 year warranty.
Concrete Moisture Mitigation System: Everything Delivered in One Convenient Package
With tight construction deadlines, architects and contractors don't have time to waste gathering all the products they need to solve a moisture problem. Bone Dry offers the complete Bone Dry Pro System: everything you need to solve your moisture problem, delivered in one shipment.
All you need to do is call Bone Dry and let us know the square footage, whether the slab is hard troweled, new or existing, and what type of flooring you want to install. We'll supply the products you need to have your floor installed quickly, easily and with a 20 year warranty against moisture.
Our system includes absolutely everything you'll need to waterproof the slab and apply your floor covering. You'll receive enough Bone Dry Pro for the project, sprayers to apply it, Etch-A-Crete to open pores in the slab, proper safety equipment, and also includes freight to your jobsite.
Why Concrete Sealers Are Needed
Whether you're working on a home project or a large-scale construction operation, concrete is the foundation of many projects. Concrete is a porous material that retains moisture after it gets wet. When water gets into concrete it can cause cracking as it freezes and thaws. Concrete sealers fill in these pores to prevent the concrete from cracking and releasing moisture already inside the concrete. Many people forget that concrete can release moisture and cause damage to things on its' surface, like cardboard boxes.
Sealed concrete is easier to clean and helps keep your surface looking great by preventing stains from chemicals and tough to clean spills like oil and grease. Some sealers, like our EM Coating, provide a sleek semi-gloss finish to the surface.
We offer Bone Dry penetrating concrete sealer 3 ways: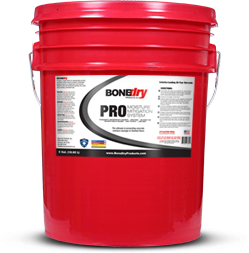 Commercial-grade moisture mitigation package for large-scale applications on new or existing concrete. This product is backed by a 20 year warranty.

Commercial

Indoor
Request a Quote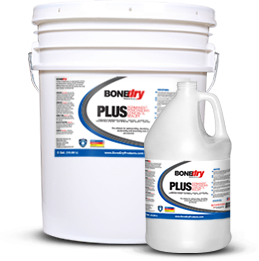 All the benefits of our original concrete sealant with the added benefit of antimicrobial agents, perfect for situations where mold and mildew could be an issue.

Indoor

Outdoor
Full Details

Gallon &

Gallon
sizes available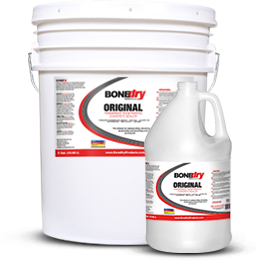 Our original concrete sealer is strong enough for use indoors or out and provides a reliable moisture barrier on new and existing concrete.

Commercial

Indoor
Full Details

Gallon &

Gallon
sizes available
Bone Dry Pro Is Used for All Types of Construction
From single story slab on grade to multi-story light-weight concrete structures, Bone Dry Pro will seal the concrete surface of new and existing slabs resolving moisture issues and allowing construction to continue without delays. Bone Dry Pro can be used to resolve moisture issues in projects including:
LEED PROGRAM CERTIFICATIONS (where applicable)
IEQ Credit 4.1–Low Emitting Materials
IEQ Credit 4.3–VOC free ratings help qualify installations for this credit as part of a flooring system.
MR Credit 5–Regional Materials–on jobsites within 500 miles from manufacturing location: Kenosha, WI 53144.
Protect Vinyl Floor Coverings against Failure with Bone Dry
Most flooring manufacturers will not warranty an installation if the RH level is above 80%. Solvent-free adhesive bases such as water, latex and acrylic for vinyl floors will fail if moisture permeates up through the slab. Excessive moisture infiltration can cause the adhesive to re-emulsify and fail.
There are two main reasons why moisture becomes a problem. Either the slab is new and was not allowed enough time to cure and/or dry properly before the adhesive was applied or it can be an existing slab without a membrane beneath it. Regardless of which situation you face, the answer is the same: Bone Dry Pro.