Bone Dry Pro Commercial Concrete Sealing Package
Bone Dry product experts developed a complete solution for sealing large commercial concrete slabs for new and existing substrates. The Bone Dry Pro System capitalizes on years of experience installing a variety of flooring systems on concrete substrates.
With the Bone Dry Pro System's penetrating sealant package, you get everything you need to properly seal and treat concrete and prevent moisture damage. Whether you're pouring a new concrete floor for a hospital or need a moisture mitigation solution for an existing warehouse floor, the Bone Dry Pro System has you covered. Don't have a concrete etching compound on hand? No problem. Don't have an application sprayer? We provide one. Looking for a 25-year warranty against moisture-related failures? With the Bone Dry Pro System, you've got one.
Apply Bone Dry Pro Sealer Immediately After the Pour
Bone Dry penetrating sealers will create a waterproof barrier from within concrete floors, and now Bone Dry Pro sealer can be applied at least an hour after fresh concrete is poured. Most sealers can only be applied after a concrete floor is fully cured, which usually takes weeks. Bone Dry Pro's special formula is made to be the complete solution for all types of concrete floors. The speed with which Bone Dry Pro can be applied to your freshly-poured concrete floors can save days on the job!
Applying Bone Dry Pro sealer immediately after the pour is only one of the many benefits of using our product. Some other benefits include:
Fewer contractors – with Bone Dry's easy-to-apply spray application, Bone Dry Pro won't need a whole team of contractors to apply the penetrating sealer.
Less labor-intensive – since Bone Dry Pro with Quick Dry replaces the need for a cure and seal product, contractors are able to work faster and stay on schedule for longer projects or larger commercial concrete-pouring jobs
Installation included for larger commercial projects – Call us at 262-694-9748 to learn more.
No need for a cure and seal product – Bone Dry Pro with Quick Dry is a penetrating sealer that hardens substrates while creating an antimicrobial barrier on the surface to prevent future mold and mildew growth.
What do I get with the Bone Dry Pro System?
The Bone Dry Pro System is the result of decades of experience in concrete floor sealing. We've packaged all the tools and products you need to completely treat newly poured concrete substrates or seal existing concrete structures in your building. With all necessary equipment included, contractors are never scrambling for a sprayer or the appropriate adhesive spreading trowel at the last minute.
Nationwide Application for Commercial Concrete Projects
The application of Bone Dry Pro & etch-a-crete (if required) can be quoted to be applied by our in-house team of commercial concrete sealers. We will travel to wherever your commercial project is in the United States to apply Bone Dry Pro. If you already have contractors to apply the Bone Dry Pro concrete sealer, we can also send a representative to oversee the application and ensure that it is done correctly. We want to make sure that you are set up for success and we take the extra steps to guarantee the success of sealing your commercial concrete slab.
The Pro System Includes as Needed:
Bone Dry Pro – The ultimate in chemical-based concrete vapor barriers, with antimicrobial product protection and added Quick Dry for shortened curing times
Etch-A-Crete – Opens pores of hard troweled and smooth concrete substrates to allow full penetration of the concrete sealant
25-Year Warranty – Protects customers from moisture-related failures in concrete structures where Bone Dry Pro is applied
Custom Concrete Sealing Packages with Flexible Pricing
With Bone Dry's purpose-built system, we create custom product packages unique to your project – you won't be sent or billed for items you don't need and won't use. We'll adjust the pricing depending on your requirements. The three major factors we consider for custom Bone Dry Systems are:
Construction Size
New or Existing Concrete Substrate
Type of Floor Covering Used
Contact Bone Dry to order your Custom Bone Dry System and we'll build to suit!
Fast Installation and Quick Dry Time Yield Permanent Waterproofing against Moisture Infiltration
A water-based, penetrating concrete sealer, Bone Dry Pro penetrates through the concrete surface, fills the capillaries in the slab and produces a barrier within the concrete. The result is a permanent waterproof barrier protecting the floor coverings from moisture damage. Properly applied, Bone Dry prevents moisture-based failures with its 25-year warranty.
Unlike epoxies and other moisture mitigation products, Bone Dry does not normally require surface preparation. You only need to grind or shot blast the surface of the slab if there is an adhesive or sealing product on it. If the concrete has been hard troweled, you must etch it with our Etch-A-Crete to allow Bone Dry Pro to penetrate the concrete thoroughly.
Once the concrete is ready, pour the Bone Dry Pro into a sprayer and apply it to the concrete. Pay attention to how quickly the concrete absorbs the Bone Dry Pro. If the amount you spray on soaks in within 15 minutes, you should reapply.
As it works, Bone Dry Pro may force impurities, lime and alkali to the surface of the concrete. You should remove this either by mopping or, for encrusted deposits, clearing away with a wire brush.
After the Bone Dry Pro has dried, your concrete slab will be protected with a new, permanent waterproof barrier below the surface of the slab. The speed with which Bone Dry Pro can be applied and concrete ready for installation of your choice of floor covering can save days on the job.
Concrete Moisture Mitigation System: Everything Delivered in One Convenient Package
With tight construction deadlines, architects and contractors don't have time to waste gathering all the products they need to solve a moisture problem. Bone Dry offers the complete Bone Dry Pro System: everything you need to solve your moisture problem, delivered in one shipment.
All you need to do is call Bone Dry and let us know the square footage, whether the slab is hard-troweled, new or existing and what type of flooring you want to install. We'll supply the products you need to have your floor installed quickly, easily and with a 25-year warranty against moisture.
Our system includes absolutely everything you'll need to waterproof the slab and apply your floor covering. You'll receive enough Bone Dry Pro, sprayers to apply it, Etch-A-Crete to open pores in the slab, proper safety equipment for using it, as well as freight to your job site.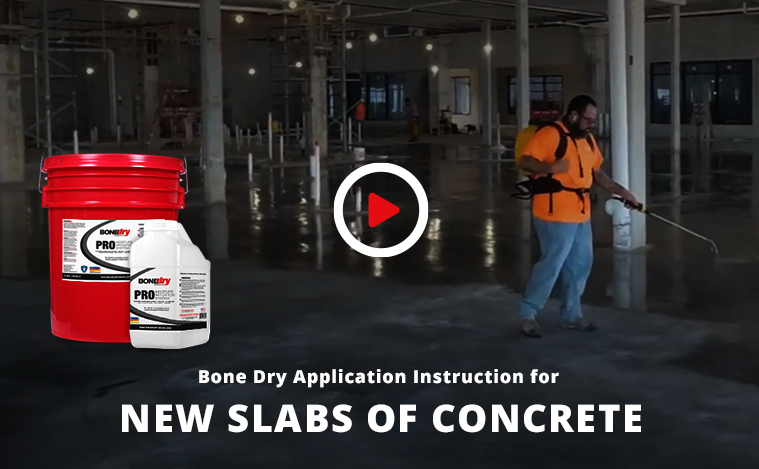 Bone Dry Pro with Quick Dry Reduces Cure Times
Our Quick Dry curing agent comes pre-mixed into Bone Dry Pro. This admixture minimizes curing time, helping contractors stay on the construction schedule for larger commercial concrete pouring projects. Bone Dry Pro with Quick Dry is the leading solution for concrete protection and project efficiency in commercial construction.
Bone Dry Pro Prevents Mold and Mildew Growth with Antimicrobial Technology
Moisture problems in new or existing concrete must be addressed before flooring is applied or repaired. Fortunately for contractors, Bone Dry Pro is a quick, easy-to-apply moisture mitigation product designed for use under floor coverings on both new and existing slabs. Our penetrating concrete sealer is permanent and includes antimicrobial technology. Antimicrobial technology is built into the sealer to prevent the growth of mold, mildew and odor-causing bacteria in concrete pores throughout the life of the product, and will not wash off or wear away.
Whether it's a tight construction deadline or an existing concrete floor without a vapor barrier underneath, moisture mitigation is a serious concern. Failure to address moisture infiltration leads to many problems:
Mold and mildew will grow under mats or non-air permeable floor coverings
Metal objects left on the floor will rust
Cardboard boxes will soak up water and become soggy
Urethane, latex, acrylic and water-based adhesives will emulsify and fail
You may notice your carpet starting to roll, tiles popping off the floor or vinyl flooring curling at the seams. These are all classic symptoms of moisture vapor transmission through the concrete breaking down the adhesive. You may even notice your concrete slab is sweating in even low-humidity environments.
Antimicrobial protection keeps surfaces cleaner
For hospitals and other critical facilities where bacteria and other microbes are a concern, Bone Dry Pro gives an added layer of protection. Besides sealing the concrete against the moisture many microorganisms need to survive, Bone Dry Pro has antimicrobial technology built into the product for continuous protection against the growth of mold, mildew and odor-causing bacteria. Industries adhering to specific health codes like hospitals and restaurants benefit from the powerful antimicrobial technology that comes built into Bone Dry Pro and Bone Dry Plus.
Depending on the porosity of the concrete, a 5-gallon pail will cover 1,100 square feet.
Bone Dry Pro provides a unique barrier for waterproofing concrete and dense cement masonry products. Bone Dry Pro penetrates deeply to become an integral part of the concrete, filling the voids and bonding the particles into a solid mass, creating a permanent seal.
The many benefits of Bone Dry Pro include:
Permanently Waterproofs
Strengthens Concrete
Prevent Surface Dusting
Prevents Mold & Mildew Growth
Non-toxic & Odorless
Cost-Effective
Easy To Apply
Reduced Down Time
Bone Dry Pro: The Best Concrete Sealing Product
Widely touted for its moisture mitigation and antimicrobial properties, Bone Dry Pro with antimicrobial technology offers many more benefits. It is the ultimate product for hardening, dust-proofing and preserving new or old concrete.
Specifically, Bone Dry Pro performs the following functions:
Sealing: Bone Dry Pro seals concrete and other cement-based materials into a mass that is essentially solid, rather than porous. Its penetrating quality provides deep sealing effective for the life of the concrete.
Bonding: Bone Dry Pro eliminates dusting and flaking and prepares the treated surface for paints, caulking compounds, adhesives and floor coverings. It also increases the bond and life of these materials. It is compatible with any type of covering.
Densifying: Bone Dry Pro initially hardens concrete at a rapid rate. Concrete will continue to harden but slower.
Waterproofing: Bone Dry Pro becomes an integral permanent part of the concrete by reacting with the free lime and alkali found in all concrete, completely waterproofing and strengthening the structure of the concrete.
Curing: Bone Dry Pro is extremely effective in all temperate climates.
Bone Dry Pro Protects Your Flooring From Moisture Damage
Bone Dry Pro protects your flooring by sealing your concrete and preventing moisture from surfacing and damaging your floors. Bone Dry Pro works with:
Adhered Flooring Systems:

hardwood, vinyl, tile, broadloom carpet, carpet tile, hard tile, sheet goods, luxury vinyl, VCT, and more
Floating Flooring Systems: engineered hardwood, laminate, luxury vinyl, wood
Anchored Flooring Systems: hardwood, gym floors
Resinous Coating Systems: PMMA, polyurethane, epoxy, polyaspartic, poured rubber, polyurea
For resinous coating systems, apply the concrete sealer after shot blasting the concrete and before applying the resinous coating.
Bone Dry Pro Is Non-Toxic and Odorless. Contractors Should Still Follow These Precautions
If Bone Dry Pro becomes frozen in the container, thaw and agitate before use.
Do not expose aluminum, glass or eyeglasses to our sealers as they could possibly etch the surface. If any of the sealant contacts these materials, wash with water immediately.
Do not apply to asphalt. Bone Dry Pro is only designed for use on cementitious materials and can break down the petroleum base of asphalt.
Leather shoes and gloves will stiffen. Some glazed tile will be dulled.
Bone Dry Pro is slightly corrosive to human tissue. Handle it as a caustic solution. Protect skin and eyes and avoid prolonged breathing of vapors or mist. For the best protection, wear chemical goggles or a face shield and rubber or plastic gloves. Consult the Bone Dry Penetrating Concrete Sealer Material Safety Data Sheet for other safety instructions.
IF SWALLOWED: Do not induce vomiting. Drink lots of water or milk, then drink diluted vinegar, lemon juice or orange juice. Get medical attention immediately.
IN CASE OF EYE CONTACT: Immediately flush eyes with plenty of water for at least 15 minutes. Get medical attention immediately.
IN CASE OF SKIN CONTACT: Thoroughly rinse off immediately with fresh water. KEEP OUT OF REACH OF CHILDREN.