Can Mold Grow on Concrete?
Moisture Can Cause Mold and Bacteria to Grow on Concrete Substrates
Mold growing in and around homes is a serious problem for many people. It can slowly overtake walls and floors as well as trigger allergy symptoms in people who spend too much time around it. The bacteria that mold produces can also degrade concrete floors, compromising its strength and durability. Mold won't feed on the concrete itself, but rather on the moisture, algae, salt, pollen, dirt, dust, and other particles trapped inside the concrete substrates.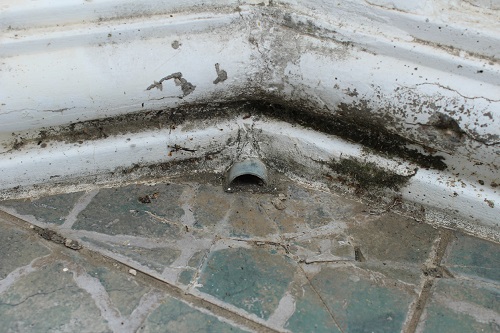 The conditions which allow mold to grow in concrete floors include:
Humid weather – concrete itself isn't an insulator, so airborne moisture will condense on the concrete surface and cause mold to grow there. Environments with a high relative humidity (RH) tend to grow more mold and bacteria.
Ground water intrusion – concrete floors in basements and garage floors may become saturated with ground water. Without proper drainage, these floors can collect moisture and become a breeding ground for mold and bacteria.
Bad ventilation – when it comes to indoor concrete substrates, a badly ventilated room can cause moisture to condense and mold to grow on the concrete floor. Particularly during the winter, wet cold air in the home can hold more moisture than warm air.
Prevent Mold Growth with Bone Dry Products
Don't let excess moisture in concrete floors lead to mold and bacterial growth – get Bone Dry for the best effective penetrating sealers applied to your concrete floors! Moisture mitigation is important when you want your concrete floor to be finished with vinyl, paint, wood, VCT, or carpeting. Order Bone Dry products today to seal your concrete floors and prevent mold growth.
Bone Dry Plus has Added Antimicrobial Protection
Bone Dry Plus has all the benefits of our high-quality penetrating sealers, plus additional antimicrobial protection. Mold and microbe growth can be a serious issue where moisture is present, and is particularly troublesome for buildings used in certain industries, such as healthcare and food production. Applying Bone Dry Plus to any new or existing concrete slab will create a chemical vapor barrier preventing moisture from surfacing, and its unique antimicrobial formula will guard against mold and bacterial growth.
Bone Dry Plus with antimicrobial benefits provides a unique vapor barrier for waterproofing concrete floors. In addition to preventing mold growth in concrete substrates, some of the other benefits of Bone Dry Plus include:
Permanent waterproofing
Concrete strengthening
Surface dust prevention
Odorless chemical
Cost-effective
Easy to apply
Fast curing time
Get the best penetrating concrete sealer to prevent mold and mildew growing in your concrete floor – contact Bone Dry today, or order your products online.
Use Bone Dry Pro for Your Flooring Project
If you're looking for a high-quality penetrating concrete sealer, all you need to do is call Bone Dry and let us know the square footage, whether the slab is hard troweled, new or existing, and what type of flooring you want to install. We'll supply the products you need to have your floor installed quickly, easily and with a 20-year warranty against water damage.
Check out all the moisture mitigation products we offer for your next project:
Penetrating Sealers: Deep sealing action to stop moisture from surfacing –
Concrete Preparation Products: Etch hard-troweled concrete and seal porous cement based structures –