Concrete Sealers
Bone Dry Permanent Penetrating Concrete Sealers provide a unique vapor barrier for waterproofing concrete and dense cement masonry products, either indoor or outdoor. A low VOC, odorless and environmentally friendly sealer that is easy to apply.
Bone Dry is known for its excellent and effective sealers. Our sealers come in three varieties: Original, Plus and Pro. All of the sealers will mitigate moisture and water vapor. Moisture can destroy adhesives, damage your flooring prematurely and cause mold and mildew to grow. Bone Dry Sealers protect against moisture infiltration.
Bone Dry products are also a densifier. A densifier is a chemical that reacts with the byproduct of concrete slabs called free lime, which is composed of calcium carbonate. When the densifier and free lime react, they form a harder and denser surface, making the concrete more durable.
Contact the concrete sealing experts at Bone Dry today, or check out the prices for Acryl-A-Seal coating products.
Concrete Sealers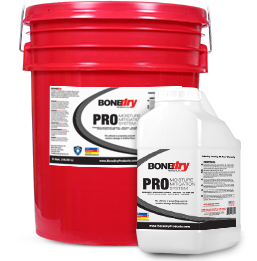 Part Number: -
SKU: 6-1
Call for Pricing or Request a Quote Below
Commercial-grade moisture mitigation package for large-scale applications on new or existing concrete.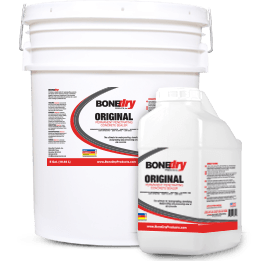 Part Number: -
SKU: 1-1
Starting at $75.00
The Original Permanent Penetrating Concrete Sealer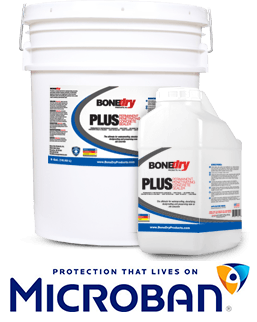 Part Number: -
SKU: 2-1
Starting at $85.00
Original Sealer with added antimicrobial protection
Features:
Sealing - Seals concrete and prevents moisture from penetrating through the concrete.
Bonding - Prevents the surface from dusting and flaking and provides a better bond for adhesives, paints, and more.
Densifying - Makes concrete harder and more durable.
Microban® Antimicrobial (Plus & Pro) - Prevents growth of mold, mildew, and bacteria in concrete.
Coverage: 220 Square Feet per gallon (Conservative Estimate due to concrete porosity)
Sealers prevent penetration of salt and other contaminants.
The appearance of the concrete will look unchanged after application.
ASTM E-96 for water vapor transmission and ASTM F 1869 calcium chloride third-party test results are available upon request.
| | | | |
| --- | --- | --- | --- |
| Coverage per Gallon: | 240 sq ft | 240 sq ft | 220 - 360 sq ft |
| Moisture / Vapor mitigation | | | |
| Sealing | | | |
| Densifying | | | |
| Bonding | | | |
| Available with Quick Dry | | | |
| Microban® Antimicrobial | | | |
| Can apply to wet concrete | | | |
Coverage per Gallon:
240 sq ft
Moisture / Vapor mitigation
Sealing
Densifying
Bonding
Available with Quick Dry
Microban® Antimicrobial
Can apply to wet concrete
Coverage per Gallon:
240 sq ft
Moisture / Vapor mitigation
Sealing
Densifying
Bonding
Available with Quick Dry
Microban® Antimicrobial
Can apply to wet concrete
Coverage per Gallon:
220 - 360 sq ft
Moisture / Vapor mitigation
Sealing
Densifying
Bonding
Available with Quick Dry
Microban® Antimicrobial
Can apply to wet concrete