CGV Theater – Buena Park, CA
Product: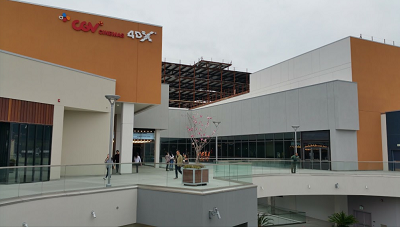 Bone Dry Sealing Products protect Cement Floors in California Cinema
Bone Dry Products serve the Silver Screen
On January 27, 2017, CGV Theater officially opened to the public. The South Korean theater chain is part of a new 500,000 square foot entertainment complex called The Source, located on the corner of Beach Boulevard and Orangethorpe in Buena Park, CA. Bone Dry Products provided concrete moisture protection 2 weeks after the cement pouring phase of this project, ensuring any carpet tile and LVT flooring would be protected from future damage due to moisture seeping up through the substrate.
Concrete Sealers Reduce Risk in Commercial Businesses
Substrate moisture mitigation is an essential part of maintaining high traffic commercial buildings like this California cinema. Moisture in concrete can easily lead to hazardous conditions in commercial buildings:
Bare and hard-troweled concrete can get slippery due to vapor transmission
Moisture trapped between concrete substrates and floor coverings can cause adhesives to re-wet, resulting in tripping hazards as tiling, carpeting, and vinyl flooring come loose.
Wetness in concrete encourages microbial growth, surfacing as molds, fungi, and bacteria which can be unpleasant or even dangerous
Sealers, Coatings and Concrete Preparation Products for Commercial Buildings
Bone Dry Products supplies a range of solutions for protecting concrete and mineral-based building materials from moisture damage. Our line of deep-penetrating concrete sealers reduce curing duration, giving contractors and builders extra time to make sure the entire job is done right and on schedule.
Penetrating Sealers: Deep sealing action to stop moisture from surfacing –
Concrete Preparation Products: Etch hard-troweled concrete and seal porous cement-based structures –
Shop Bone Dry Products online or contact a moisture mitigation specialist for more information.
Read More News on Concrete Sealing Products and See More Real World Projects →