Bone Dry Acryl-A-Seal
Semi-gloss surface coating

In Stock
Use:
Indoor
Outdoor
Product Info:
Protects concrete, brick block, and stucco from staining
Prevents dusting
Creates stronger bonding of adhesives and surface coatings
UV protected
Repels contaminants
Compatible with paint and other surface coatings
Bone Dry's Multi-Surface Coating Solution Repels Contaminants in Concrete and Brick
Acryl-A-Seal Protects Indoor and Outdoor Surfaces with a Semi-Gloss Shine
As mineral-based building materials age, they're exposed to a range of factors leading to staining, fading and dusting. Concrete block and brick can be affected by efflorescence, causing discoloration, structural changes and damage of masonry substrates. Acryl-A-Seal prevents dusting from efflorescence and protects floors and walls from staining of oils, water and mold.
Proper application of Acryl-A-Seal lends to a newer look to even old structures, thanks to its semi-gloss sheen. Whether you're resurfacing warehouse and garage floors, or sealing brick or concrete block structures and concrete slabs, any surface treated with Acryl-A-Seal takes on a long-lasting fresh look.
Reduce Stains from Motor Oil and Automotive Fluids on your Garage Floor
Acryl-A-Seal effectively protects garage floors from common automobile fluids, with high chemical resistance to stains from materials like:
Unleaded Gasoline
Motor Oil
Power Steering Fluid
Brake Fluid
Transmission Fluid
Antifreeze
Acryl-A-Seal is compatible with paint and other surface coatings, providing an aesthetically pleasing semi-gloss covering to give your garage, warehouse or brick surfaces a finished look.
No More Stucco Staining with Acryl-A-Seal
Unsealed stucco structures are usually slowly damaged through water infiltration. Staining is the first sign of water damage to stucco and often appears as dark splotches or streaks. Acryl-A-Seal prevents water penetration leading to staining, mold growth and efflorescence.
As water seeps through mineral-based building materials, like brick, stucco and cement block, it dissolves salts and leaves powder-like deposits on the surface. The crystalline deposits are generally harmless, but if stucco is painted, the expanding salts caused by efflorescence may cause the surface treatments to blister and delaminate. The unique composition of Acryl-A-Seal eliminates water infiltration, protecting mineral-based substrates.
Acryl-A-Seal Stops Brick Staining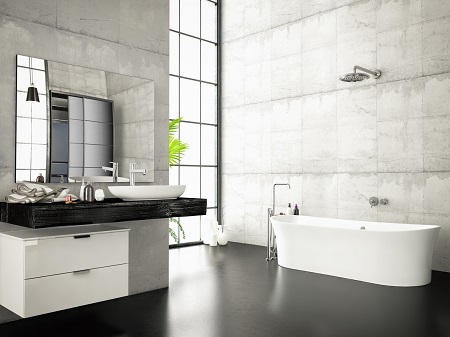 Bone Dry's Acryl-A-Seal repels contaminants in brick and mortar structures while protecting fading from the sun's UV rays. Without proper treatment like Acryl-A-Seal, efflorescence and mold growth can result from the infiltration of water.
Brick structures may also suffer from calcium carbonate or silicate deposits, which appear as crusty white formations or discolorations on the surface. Acryl-A-Seal treatments mitigate moisture leading to such deposits and more, like:
Manganese Stain – a brown discoloration originating in the mortar between bricks. Manganese oxide is used to color brown, tan, gray or black brick; as it dissolves it can work its way to the surface.
Vanadium Stain – often appears as a green or yellow stain on brick surfaces, usually on white, red or buff-colored brick.
External Staining – mold and algae form as a result of moisture absorption, while runoff from nearby construction materials like copper and paint causes other stains.
Applying Acryl-A-Seal to masonry brick surfaces protects against the forces that cause staining.
Prevent staining of brick and stucco structures with Acryl-A-Seal – Contact Bone Dry today!
Concrete Block Stain Prevention
Acryl-A-Seal protects against the surfacing of alkaline and salts commonly seen in porous concrete. The chalky deposits resulting from this efflorescence, while essentially harmless, can indicate a more serious problem with moisture infiltration. Acryl-A-Seal mitigates moisture penetration into cinder block substrates like:
Retaining Walls
Warehouse and Factory Walls
Schools and Public Buildings
Basements
Acryl-A-Seal ASTM Standards
Proper preparation should be followed to ensure adequate coating adhesion to concrete and to optimize product performance. The following ASTM standards have been drafted in order to maximize concrete coating applications:
• ASTM D 4258 Standard Practice for Surface Cleaning of Concrete for Coating
• ASTM D 4259 Standard Practice for Abrading Concrete
• ASTM D 4260 Standard Practice for Acid Etching Concrete
These may provide applicable pre-coating concrete preparation techniques. Additional guidance can also be found in SSPC-SP 13/NACE NO. 6 SURFACE PREPARATION OF CONCRETE.
Surface Preparation
• All curing agents, hardeners, oil, grease, form release oil, dirt, laitance, concrete dust or other contaminants must be removed prior to beginning coating processes. *Do not use over sealers containing waxes or silicone.
• Concrete surface preparation methods should result in clean concrete, devoid of contaminated surfaces, ideally with an adequate surface profile (surface similar to medium-grade sandpaper).
• Inspect surface for soundness. Repair or remove any surface irregularities and loose concrete. Use an approved crack filler on holes and cracks. When the surface is clean, sound and dry, proceed with coating application.
• When using for the first time it is advisable to coat a small test patch on representative concrete and verify adhesion level before proceeding to large-scale coating projects.
Application Tips
• Stir thoroughly before applying.
• Product may be thinned with water if required.
• Acryl-A-Seal Coating may be applied by spraying, rollers or by brush.
• In order to avoid "cracking" do not allow product to pool and do not apply the coats too thick.
• To prevent lapping and dry marks be sure you are using the recommended coverage rate of 300-400 sq/ft per/gal.
• Avoid over-application, heavy runs and drips should be brushed or rolled smooth. To prevent this, 2 to 3 thinner coats are recommended (be sure not to apply too thin).
• When spraying hold spray nozzle 12-24" away from the surface, spray an even light coat over the entire surface.
Application Temperature & Curing Time Requirements
• Product may be applied to structures between 40°F and 120°F.
• Do not apply Acryl-A-Seal Solid Coating when temperatures are below 40°F. Do not apply to frozen concrete. Do not apply to metal or concrete with surface temperatures below 40°F.
• Normally Acryl-A-Seal Solid Coating will be dry to touch within 30 minutes of application (77°F/50% RH). Higher temperatures will speed up dry times while lower temperatures will slow down cure time.
• If ideal surface preparation is not possible the addition of 2 oz. per gallon of Bone Dry Bond Adhesion Promotor (available by special order from Bone Dry Corporate) can be used to increase coating adhesion and performance. This also improves adhesion on metal surfaces.
• Metal surfaces should be clean and free of rust and contaminants. If rust is present, removal with high-pressure wash is advised. A metal primer is recommended if all rust cannot be removed. Allow approximately 2 hours for coating to dry before applying additional coats.
Additional Comments
We recommend that containers be either professionally reconditioned for reuse by certified firms or properly disposed of by certified firms to help reduce the possibility of an accident. Disposal of containers should be in accordance with applicable federal, state and local laws and regulations. "EMPTY" drums should not be given to individuals. The conditions of handling, storage, use and disposal of the product are beyond our control and may be beyond our knowledge. For this and other reasons, we do not assume responsibility and explicitly disclaim liability for loss, damage or expense arising out of or in any way connected with the handling, storage, use or disposal of the product.
Check out the whole range of products offered by the experts at Bone Dry: