Floor Covering: Sheet Vinyl
Three Story Hospital Expansion Performed while Facility Stays Open
St Catherine's Hospital in Kenosha, WI was originally constructed with expansion in mind. When the time came to turn the two-story building into a four-story hospital with a fifth-floor mechanical penthouse, many things had to be taken into account. A newly adopted building code meant the construction crew would need to be earthquake-proof.
The entire renovation would take place without closing the hospital, necessitating a fast-paced construction schedule.
Building quickly meant moisture mitigation had to be part of the construction plans. Without the right concrete sealant, moisture originating from free water present in the concrete slabs would ruin the sheet vinyl flooring the hospital was installing in the new expansion.
Bone Dry Pro has a 20 Year product warranty against concrete moisture related failures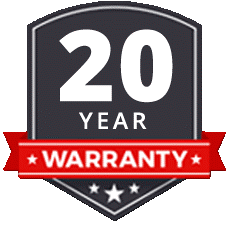 Minimize Downtime with Bone Dry Pro's Easy Installation and Fast Dry Time
Since the hospital would be open during the construction, the concrete sealant needed to be installed and dry quickly. Even for large applications, the only equipment required to apply Bone Dry Pro is a backpack sprayer. Contractors just need to spray the water-based sealant on the slab and wait for it to dry. Fortunately, Bone Dry Pro is fast drying, letting the floor covering be installed just six hours after application, keeping downtime to a minimum.
The three silicates in Bone Dry Pro penetrate deeply into the concrete, finding free calcium hydroxide and bonding to it. The result is a permanently waterproof slab, stronger and denser than before sealant application.
An added benefit for the hospital is Bone Dry Pro's antimicrobial properties. Mold, mildew and other undesirable microorganisms will not grow on a slab sealed with Bone Dry Pro. Quick drying, permanent moisture sealing and disinfecting made Bone Dry Pro the clear choice for moisture mitigation at St. Catherine's Hospital.
Penetrating Sealers: Deep sealing action to stop moisture from surfacing –
Concrete Preparation Products: Etch hard-troweled concrete and seal porous cement based structures –
Three New Hospital Floors Permanently Sealed for Decades of Healthcare Services
With Bone Dry Pro bonded to the concrete slabs under the new sheet vinyl flooring, St. Catherine's Hospital can count on decades of service from their new floors. By preventing moisture from passing through the slab, the adhesive holding the vinyl to the concrete will not break down.
This eliminates the chance of bubbles forming under the floor from moisture vapor transmission. It also prevents the floor from separating at the seams or pulling up from the concrete subfloor.
St. Catherine's Hospital was able to expand without closing for construction thanks, in part, to the use of Bone Dry Pro. Warrantied to prevent moisture-related failures in concrete for 20 years, Bone Dry Pro will continue to keep St. Catherine's open for years to come.