Floor Covering: LVT, Sheet Vinyl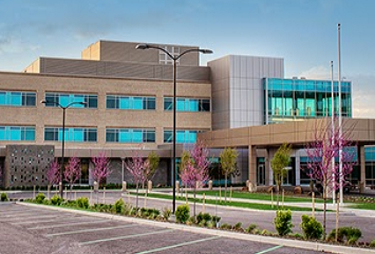 Moisture Mitigation Products Keep Hospital Floor Intact
The floor is an important, but often overlooked, part of maintaining a clean hospital environment. Left uncleaned, the floors can contribute to spreading disease and infecting new patients. When hospitals are constructed or expanded, their choice of flooring is extremely important.
Kennewick General Hospital, now known as Trios Health, was building a new facility in Kennewick, Washington. The hospital chose a combination of Luxury Vinyl Tile (LVT) and sheet vinyl for their flooring. Easy to clean and very attractive, vinyl flooring products are commonly used in healthcare facilities.
Having chosen a floor covering material, the next step was installation. Improper installations can lead to moisture passing through the floor. When this happens, mold and mildew can grow, the seams may separate and the entire floor will soon fail.
To avoid a total floor failure and prevent the growth of harmful microorganisms, the concrete base over which the LVT and sheet vinyl would be installed had to be sealed.
Concrete Subfloor Preparation Includes Etching the Surface for Optimal Sealant Penetration
Hard troweled concrete presents a problem for concrete sealers.
With a limited number of pores, the sealant has trouble properly penetrating the surface to react with the free lime and fill voids.
Bone Dry Etch-A-Crete was designed specifically to open pores in concrete, allowing the sealant to achieve optimal performance.
Since the hospital's concrete subfloor had been hard troweled, the Etch-A-Crete concrete etching solution was necessary to ensure the penetrating concrete sealer would work correctly.
An additional benefit of using Etch-A-Crete is it helps adhesives bond to the floor better. This makes gluing down an LVT or sheet vinyl floor easier.
Once the Etch-A-Crete had been applied and allowed to dry, it was time to spray on the concrete sealer.
Deep Penetrating, Antimicrobial Concrete Sealer Is Perfect for Healthcare Facility Floor Installation
Bone Dry Pro is a deep penetrating concrete sealer. It enters the pores in the concrete, filling any gaps and actually becoming part of the material. The result is a stronger, denser concrete slab. Most importantly, the surface is permanently sealed and resists mold and mildew growth.
Bone Dry Pro was sprayed on the hospital's concrete subfloor and allowed to dry. With its fast drying time, the floor installation contractors could begin adding the LVT and sheet vinyl in just six hours.
Now, the Kennewick General Hospital has an antimicrobial, waterproof concrete slab under its vinyl flooring. Patients and doctors will be able to use the facility for decades to come without worrying about a failing floor.
Check out more of our concrete sealers:
Penetrating Sealers: Deep sealing action to stop moisture from surfacing –
Concrete Preparation Products: Etch hard-troweled concrete and seal porous cement based structures –