California
Concrete Sealer and Moisture Mitigation Solutions in California
Bone Dry manufactures and provides high-quality concrete sealant, etching, and priming products throughout California. Concrete floor moisture is a serious problem that often occurs with new concrete that has not been properly laid or sealed. Concrete moisture usually results from moisture in the ground seeping up to the surface through the pores of the concrete. Mitigating this type of moisture is easy with Bone Dry sealers. Bone Dry products penetrate concrete and close up the pores to give you complete moisture mitigation and greatly extend the life of your concrete.
Be sure to contact your local permitting office for approval in contract use.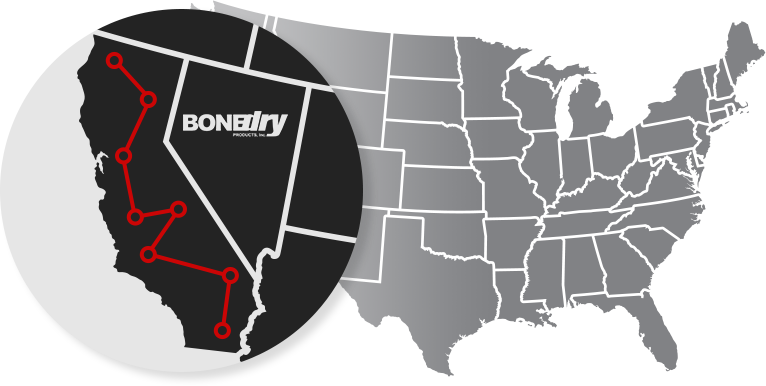 Have Questions? We have the answer!
An Affordable Premium Concrete Waterproofing Sealer
Bone Dry provides a highly effective concrete waterproofing sealer alternative to pricy epoxy concrete sealants. Our concrete sealers feature quick and easy installation featuring a hose to accurately spray and seal where you want. Once sprayed our concrete sealant takes only 6 hours to fully cure and once done, is immediately ready for any type of flooring installation or painting. 1 gallon of our Bone Dry Original Sealer seals approximately 220 square feet. More than enough to meet the ADU minimum living area of 150 square feet requirement in California.
California Accessory Dwelling Units Conversion
Looking to utilize extra space and create a mother-in-law suite or an accessory dwelling unit (ADU) in your home? An ADU is a legal living space separate from your home and California has several regulations which will affect the way you proceed. There must be natural ventilation, natural light, and in general – just like the main house. This means proper flooring. The most common area of conversion is a garage, which has a concrete floor. Bone Dry can help you here. Whether you are installing carpet, hardwood, or vinyl, it is essential that you seal your concrete garage floor to prevent water damage to your newly installed floors. Our concrete waterproofing sealers block out all moisture and ensure that no moisture is coming up through your concrete foundation to damage your floors and ruin your new ADU.
Concrete Etching and Priming products
Preparation is just as important as the actual sealing process itself. Bone Dry manufactures etching and priming products to help prepare your concrete surface for sealing. Contaminants seep into porous concrete over time and facilitate concrete sweating. Our preparation products help remove these contaminants including mineral deposits, stains from rust and smoke, mildew, and much more. Without proper removal, these contaminants can get in the way of sealing concrete and result in a less-than-desirable outcome.
Concrete Coating and finishing products
The final step to making your now moisture-free concrete surface look just the way you want it is the coating process. Bone Dry coating products protect against the elements and external staining. Our semi-gloss sealants are not just for concrete and can be applied to many other surfaces including wood, cinder block, and stucco. Our coatings provide protection against automotive fluids including motor oil and unleaded gas, making it a must-have for any garage. Bone Dry has quality concrete coating products you can trust.
Industries
Contact us or check out our FAQs page if you have any questions!
Prevent cracked concrete and flooring repairs
Concrete can crack due to moisture-related issues. Moisture mitigation is essential for preventing your garage, basement, or patio from cracking and causing further complications. Not only is cracked concrete itself broken, but it can lead to damage to any flooring installed on top of it. Moisture from cracked and unsealed concrete damages the flooring installed on the concrete. It can lead to buckling wood, mold or mildew in carpet, and bubbling vinyl flooring. Protect your concrete and flooring investment with Dry Bone concrete sealant.
Common Bone Dry uses
Bone Dry concrete sealants can be used to seal concrete in many places including:
Garages
AUX units
Driveways
Patios